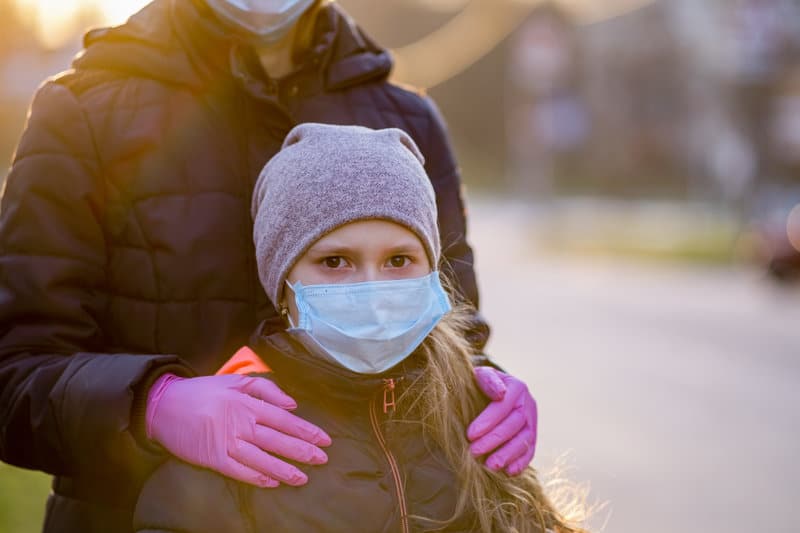 Co-parenting while sheltering in place puts multi-household children and their families in a tight spot. On one hand, there is the desire to honor all of the sheltering in place stipulations, which prohibit visiting others' houses or social gatherings of any kind. However, it does allow traveling to and from your home to other locations for "essential" reasons, and honoring the orders set forth in your child custody agreement is absolutely "essential" in the court's eyes.
Your Child Custody Order Still Reigns Supreme
While it's understandable that you or your spouse may have concerns about a child traveling from house to house, and the risk of potentially catching or spreading COVID-19, your child custody order still reigns supreme unless the parents have a written agreement that states otherwise.
Review your child custody order
If you worked with an attorney or family law mediator to draft your child custody order, there may be specific clauses you've forgotten about along the way. This may include information such as:
Does illness or medical emergency alter the co-parenting while sheltering in place?
Sometimes, child custody orders dictate that an illness, serious injury, or other medical emergency alters the plan. Nolo.com writes, "If your child has asthma, is immunocompromised/suppressed, or has another underlying medical condition that makes your child more susceptible to COVID-19 or resulting respiratory complications, you should speak to your child's pediatrician for advice and talk to your ex about how to reduce the risk to your child in both homes."
Perhaps a child remains longer with one parent or another to provide a greater level of stability during healing. The other parent will be fully entitled to a make-up time later on and can use Zoom or other video-streaming, phone calls, online games, letters, texts, email, and other digital options to remain closely engaged with his/her child.
If your child is diagnosed with coronavirus, you may have to disclose that to the other parent or you may not – it's probably in the agreement.
If you or the co-parent are diagnosed with a contagious, life-threatening illness (such as COVID-19) it could be considered negligence to keep that information from your child's other parent or to have your child in your home again until you recover are test negative for the virus or contagion.
Your child custody agreement is your primary resource. But, of course, it is only a template. It cannot answer every question or dilemma that may arise throughout the course of life's unpredictability. For that, you rely on (hopefully) healthy communication skills.
Visit 7 Tips For Positive Communication with Your Ex to help set the stage for open, honest, and heartfelt conversations.
Create An Agreement For Co-Parenting While Sheltering In Place
If you and your child's other parent are more or less in agreement, see if you can draft a simple COVID-19 Co-Parenting Agreement that prioritizes overall health and wellbeing – starting with the child's and then including each of the parents and other household members.
Have an honest conversation around:
Your ability to honor shelter-in-place orders. If both households are vigilantly honoring the tenets of the Bay Area's shelter in place orders, there's no reason a child can safely travel between homes (always washing in and out, of course).
Are one of you at higher risk for contracting COVID than another? Some of my co-parenting clients work in the ICU or healthcare industries, or in supermarkets where they feel especially exposed. In these cases, some of them have established it's better to have the child remain 100% with the other parent and have gotten creative with visitation. Others have established their own honoring of protective gear and sanitization routines are enough to protect them and their child(ren).
Is the child expressing a wish to remain with one parent over the other right now? Some households are more tense, anxious, and afraid right now and can spill right over onto the children. If your household climate, or your ex's, is agitating your child or seems detrimental to his/her sense of safety, happiness, and security, s/he might express a desire to spend more time with one parent over the other. In this case, you can make a temporary agreement to accommodate the child's understandable request.
Will there be changes to child support/alimony during this time? While you can apply for a modification to any child support or alimony payments as a result of COVID-related financial hardship, you're still beholden to the original agreement unless the two of you have agreed to temporary changes.
That said, any disagreement between the parents needs to be resolved ASAP with help from a family law specialist or the judge. In the meantime, the existing order or agreements remain in place. If you truly feel your child's health is at risk, you and/or your lawyer may be able to obtain an emergency child custody/visitation order. Click Here to learn more about that.
Get Your Changes in Writing
If you decide to create a temporary COVID-19 Co-Parenting agreement, make sure to get it in writing. Even a clearly worded, detailed email that states the new tenets of the agreement – and the recipients have written acknowledgment and agreement of those changes – may be enough to hold up in court if a dispute arose afterward. However, I highly recommend working with a family law professional, even if it's a one-time consultation with a mediator, to keep your child custody and visitation agreement clear and legally sound.
The agreement can always include that either party retains the right to revert back to the original agreement, or to amend the temporary version, by communicating in writing to the other parent. You may also want to clarify that the temporary agreement is immediately null and void and that both parties will revert back to the legal co-parenting agreement as soon as sheltering in place restrictions are reduced or eliminated.
Need Professional, Third-Party Support?
Would you benefit from third-party support from a family law professional as you navigate co-parenting while sheltering in place during COVID-19? Contact us here at the Law Office of Gerald A. Falzone. I work with couples to calmly and compassionately make decisions that always prioritize the child's and family's well being.