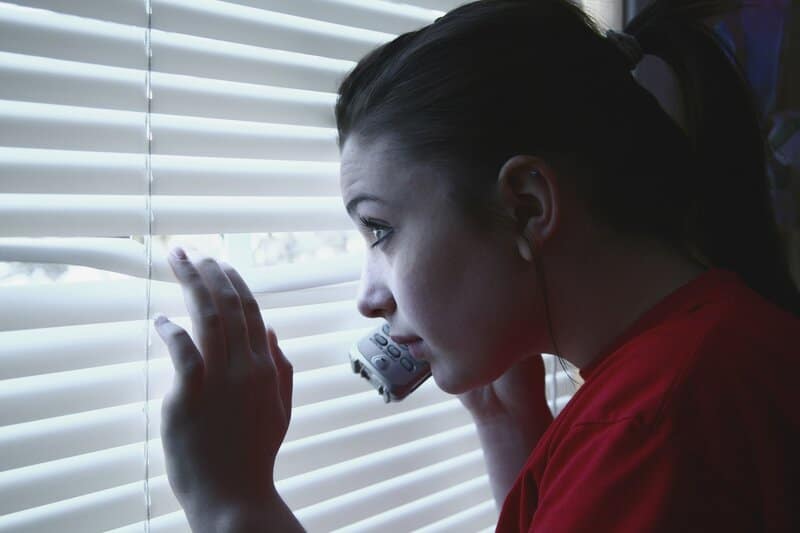 It isn't always easy to know if filing a restraining order is your best way forward without support from law enforcement or legal professionals.
In addition to consulting with a family law attorney, you can also schedule an appointment with the family law division of your country court, where anyone is entitled to free help and information.
Things To Know About A Restraining Order
The following explains the basics of a restraining order, how they are most commonly used, and whether or not you may need to file one. Keep in mind, however, that restraining orders move through the legal court system and are pieces of paper. If you or your children are physically at risk, consult with a family law professional to outline your safest, next steps.
What is a restraining order?
Ultimately, a restraining order is a legally binding order from the CA courts. In their words:
A restraining order (also called a "protective order") is a court order that can protect someone from being physically or sexually abused, threatened, stalked, or harassed. The person getting the restraining order is called the "protected person." The person the restraining order is against is the "restrained person." Sometimes, restraining orders include other "protected persons" like family or household members of the protected person.
One of the problems with restraining orders is that paperwork doesn't necessarily prevent another human from doing what they decide to do. In other words, filing a restraining order can't keep your potential abuser from reaching out to you, harassing you, or from violating other sections of the order. When and if they do, however, your restraining order allows the police to take more instant action.
There are two different types of restraining orders.
Civil restraining order
This is filed when an offender is not intimately or closely related to you. If the person harassing or threatening you is a neighbor, roommate, friend, family member more than two-degrees removed, like an aunt or uncle, a niece or nephew, cousins, and more distant relatives, or another person you are not closely related to. 
Domestic violence restraining order
The second type of restraining order is dedicated to victims of domestic violence. This is the type we see most often in the family law arena. This one is filed by adults who are victimized by people with whom they share an intimate or close relationship, including:
married or registered domestic partners
divorced or separated
dating or used to date
living together or used to live together
parents together of a child
closely related (parent, child, brother, sister, grandmother, grandfather, in-law)
Restraining orders, themselves, are divided into four different categories:
Emergency
Temporary
No-Contact
Domestic violence
Emergency orders are often the first step, getting the ball rolling and putting some protection into place as the case moves forward. Temporary orders extend the emergency orders and bide you more time until the judge is able to hear your case and decide whether a more permanent restraining order is necessary.
Do You Need A Restraining Order?
You may need to file a protective order if the person listed in the above, domestic violence restraining order category, has abused you or threatened to abuse you. Save any and all texts, emails, voicemails, or video footage that prove your case. Solid eyewitnesses (no hearsay) may also help your cause. 
The same is true if you are a parent in a child custody situation where you feel like the child's other parent or someone living in the other parent's household has been abusive, is threatening to abuse the child, or where domestic violence between other adults or members of the household is traumatizing your child.
If you feel like your child is at risk, we recommend filing Emergency Child Custody and Visitation orders, as well as a restraining order, to keep your child(ren) safe.
Along with all of the legal documents you need to file, make sure to have a professional, evidence-based case to present in court. This includes things like:
Photos of personal damages or vandalism
Signed affidavits by eyewitnesses
Prior or current medical records and police reports
Any records of threatening conversations, messages, photos, etc.
Sadly, even though you are the victim here, you have to be your own strongest and most professional advocate when moving your case through the legal system if you cannot afford legal representation.
Tips For Helping Police Uphold Your Restraining Order 
Police officers do not have instant access to any and all court orders. For that reason, it is essential that you keep your original court papers tucked in a safe and locked location.
Make copies and keep them everywhere you may need access, including your home, your car glove compartment, your desk at work, your friends' houses, etc.
Report any and all violations. Any inconsistencies on your part (like texting or calling the person sometimes but then reporting them when they do the same) will compromise your case
Try to find a safer place to live if the person you've filed against is too out of control or uncaring about the law to be affected by a restraining order
Consistently call the police and file a report each and every time there is a violation to support your case with legitimate documentation
We are so sorry to hear of any clients who find it necessary to file a protective order, and yet they are essential in helping to keep yourself or loved ones safe. Need help working through a complicated separation, divorce, child custody case that requires a restraining order of some kind? Work with the compassionate family law team here at the Law Offices of Gerard A. Falzone. (415) 482-7800.