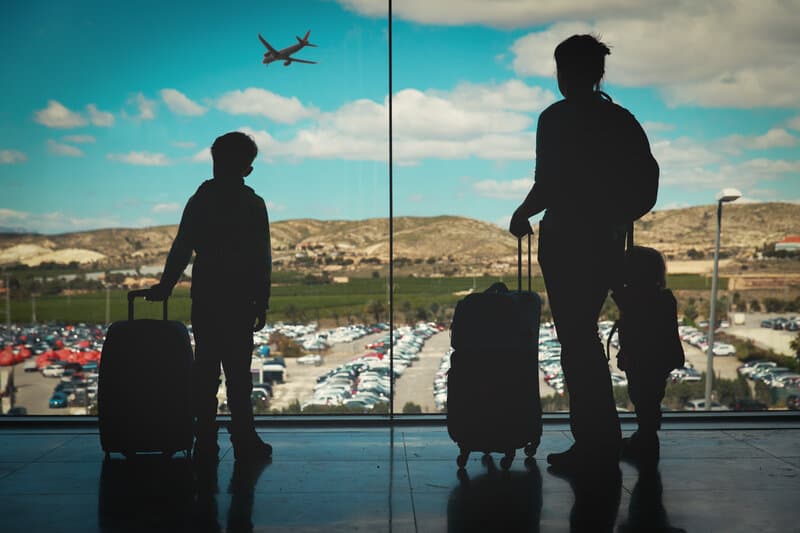 Are you planning a solo trip with a minor child out of the state or country? If so, make sure you have all of the documentation required. Whether married or divorced, specific paperwork eases the way in case curious travel agents or security personnel have questions. 
If you're divorced, legal paperwork is a must, or you could be denied the ability to travel until you have everything they need to ensure your co-parent is on board with the trip.
5 Documents To Have With You When Travel With Minor Children
Here are five documents parents should have on hand when traveling with minor children and without the other parent. Even if you're married, and especially if your child has a different last name, we recommend following the same guidelines as a parent who is divorced or part of a child custody agreement to prevent any potential delays or hiccups along the way.
If you are a grandparent, relative, or a friend's parents, you'll need to be extra careful you have all of the right documents in order.
A U.S. passport
If you're traveling out of the county, your child must have a passport. This includes infants and toddlers. Infant and child passports must be renewed every five years until they turn 16, after which passport renewal shifts to every 10 years. Visit the U.S. Department of State's website for specific instructions on how to obtain a child's passport.
Tips for obtaining a U.S. passport for infants and children. Keep in mind that passport processing times are as long as nine weeks after the application is approved. So the sooner you apply, the better. Also, while the U.S. Department of State advertises expedited passports in three to five-week windows (for which you pay extra), I've known clients whose expedited passports didn't arrive in time. We recommend applying for a new passport at least 10 to 12 weeks before you travel with minor children, if possible.
Things to know:
Both parents must participate in the passport application process (if that's not possible, the U.S. Passport website has separate instructions for handling that).

You'll need your child's birth certificate or proof of U.S. citizenship, social security card, and both parent's legal IDs

A photocopy of U.S. citizenship evidence

Proof of the parental relationship (typically the birth certificate or adoption decree suffices)
Don't assume it will go swimmingly the first time you apply. Agents reviewing passport applications must adhere to the letter of the law, so it may take more than once to ensure you have everything you need.
A copy of your child custody order
If you're legally separated or divorced, you'll need a copy of your child custody order and agreements to prove you have legal custody/visitation with your child. 
If you hired a lawyer or mediator, odds are your child custody/visitation agreement includes information about out-of-state or travel abroad. However, most couples completing a DIY divorce forget to cover all of the future bases. If your agreement doesn't include verbiage about out-of-state trips or travel abroad, contact a family law specialist and modify the agreement through the courts. This can be as simple as one mediation meeting, after which we'll file the new documents for you.
Complete a minor travel consent form (and have it notarized)
Whether you think you need it or not, complete a Minor Travel Consent Form whenever you're traveling out of state or abroad with a minor. It's always better to have more than you need when it comes to child safety and others' understandable concerns. 
Click Here to print and complete Rocket Lawyer's boiler-plate Minor Travel Concent form for California. Their easy-to-fill-out form takes you step-by-step through a series of questions and then populates the form for you. I also recommend going together (or individually if necessary) and having the form notarized by both parents or legal guardians. This makes it that much more official and removes any suspicion that a signature is forged.
Make multiple copies and put them in your purse/backpack, carry-on, checked bags, and have one in the child's travel bags as well. 
When you travel with minor children don't forget their birth certificate or ID for children under two
Because most airlines allow children two years old and younger to fly free, they want to see proof. Therefore, if any travel tickets (or lack thereof) rely on the fact you're traveling with a child who's two or younger, bring copies of their birth certificate, a valid passport, or another valid form of ID in case agents want to verify.
Medical treatment consent, insurance information, & contacts
Finally, you'll want to have a file with printed copies of the following:
Medical treatment consent forms for minor children. If you're a step-parent, grandparent, or non-legal guardian, have the child(ren)'s legal parents complete. Your pediatrician can point you in the right direction, supporting you with any information about existing health conditions, allergies, current medications etc. You can also find general forms online, like this one, from LegalDepot.com. 
Copies of health insurance cards. Make sure you have multiple copies of both the front and back sides of the child's current health insurance card. The medical record number and carrier's phone number should be legible.
List of key contacts in case of an emergency. These are listed on the travel consent form, but it's always good to have an extra copy of any essential contacts in case of emergency.
Getting Ready To Travel Without Your Child(ren)'s Parent(s)?
Do you want to make sure you have all the forms, proof, and paperwork you need to travel out of the state or country without your child(ren)'s other legal parent or guardian? Then, schedule a consultation with the Law Offices of Gerard Falzone. We'll help you update your child custody and visitation agreement to keep traveling as simple as possible.