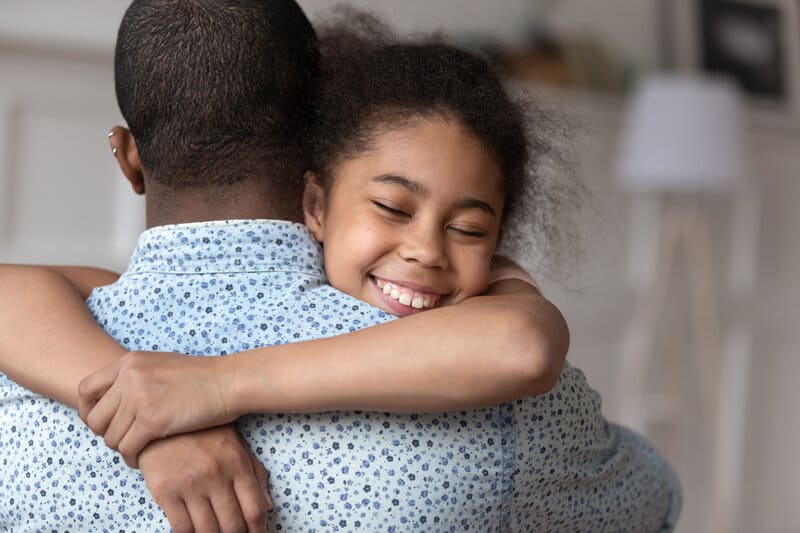 Supervised visitation with children is a child custody condition the family law courts order on a case-by-case basis. While not common, they are designed to facilitate strong, healthy bonds between the child and the non-custodial parent while prioritizing the child's physical and emotional health and wellbeing.
If you believe your child is not safe with a non-custodial parent, or you feel your child is afraid of his/her non-custodial parent and needs support building trusting bonds, supervised visitation may be worth pursuing with the help of a family law specialist or divorce attorney.
5 Things to Know About Supervised Visitation In California 
Here is what you should know about supervised visitation: who it's for, situations where it's recommended, and other important information.
A judge is most likely to order supervised visitation in CA when… 
The Family Law Courts of California have a range of situations in which custodial parents can pursue (or a judge may automatically order) supervised visitation between a non-custodial parent and his/her minor children.
These are:
To give the visiting parent a chance to address specific issues (this could include alcohol/drug abuse or other addictions that are untreated or currently in treatment) 
To help reintroduce a parent and a child after a long absence 
To help introduce a parent and a child when there has been no existing relationship between them 
When there is a history or allegations of domestic violence, child abuse, and neglect, or substance abuse. Read, 7 Steps to Take Before Leaving an Abusive Spouse, to learn more about that topic. 
When there are parenting concerns or mental illness 
When there is a parental threat of kidnapping or abduction. 
Your family law professional will listen to your story determine whether your situation warrants pursuing supervised visits with your child(ren) and his/her other parent.
Supervised visits take place with a family member or social worker present 
The custodial parent is not allowed to be present during the visits. In addition to interfering with the bonding between the other parent and your child, your presence can trigger tension, stress, or even anger/trauma that inhibits or impedes the climate or emotional space of the visits.
Instead, the court will determine whether your child's supervised visits should take place with another family member present or with a social worker – or a combination of both.
Visits can take place in the other parent's home, a park, or other designated location 
Where the visits take place depends on your particular situation. For example, if there is any risk of violence, the visitation is typically ordered to happen in a public space (like a park or downtown plaza) or in a designated child custody visitation center where social workers are present. If, however, the violence is not a threat and the other parent's home is considered safe, the visit may take place in the other parent's or a relative's home – but with the court-appointed supervisor(s) present.
The courts will provide very clear and detailed guidelines about who will be there, where the visits will take place, the duration of the visits, and so on.
Supervised visitation with a child may be temporary or indefinite 
In some cases, such as untreated addiction without a history of violence, the judge might require supervised visitation for a temporary amount of time. In that case, s/he may order that visits are to be supervised until the parent has successfully completed a substance abuse program and is meeting regularly with a mental health professional or sponsor of AA, etc.
Temporary supervision is also common in cases where the child hasn't seen the other parent in a while, after the parent finds a suitable home, or is successfully managing a mental illness.
Other times, particularly if domestic, child, or sexual abuse has occurred, supervised visitation orders may remain indefinitely or permanently. In all cases, the situation is systematically reviewed by the courts with the child's wellbeing as the top priority. 
You can request supervised visitation for your child at ANY time 
You can request supervised visitation for your child at any time if you feel his/her safety or emotional wellbeing is at risk. Things that seemed fine at the beginning may turn sideways and become evidence in a child's reluctance to spend time with a particular parent (very different from preferring one house over another) as a result of fear, trauma, witnessing domestic violence in the other parent's home, the development or returning to addiction, or you may notice attendance or academic issues related to the child's visit with the other parent, etc.  
In this case, you file for a child custody modification (read, What Are Post-Judgement Child Custody Modifications, to learn more). While you do not need a legal professional to file one, it can be very helpful. The courts require specific and detailed proof or evidence to modify a standing child custody agreement, especially if your request is for supervised visitation. Your lawyer will make sure you have everything you need to protect your child with as little courtroom time, drama, or stress as possible. 
Have questions about your child custody agreement or wish to learn more about what you should know regarding supervised visitation in California? Contact the Law Offices of Gerard A. Falzone.