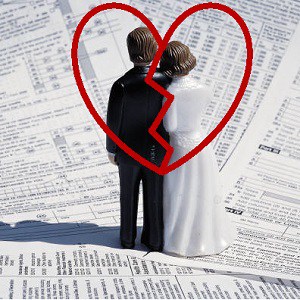 Divorce is angst-ridden enough without the fiscal complications, but you'll make it through the financial year more smoothly if you get to know the tax laws. The IRS generally thinks of you as married until the end of the tax year, so even if you divorce on New Year 's Eve, your marital status won't change when it comes to what you owe the government. Nothing is ever quite that simple, though. There are more tricks to filing that you need to consider.
Filing Status
The IRS doesn't always use federal law to determine your marital status. You will have to check the laws of your state. Some let you separate under a decree of separate maintenance, which means you're considered married until the last day of your divorce. The U.S. hasn't caught up when it comes to registered domestic partners, who can't file joint returns under any circumstances.
If you're under a decree of divorce, you must file as the head of your household or as a single person.
If you're still married, you can file your taxes as a couple or separately under 'married filing separately.' Filing jointly is usually easier on the pocket.
Federal taxes are usually lower if you file together.
Head of household status can be used if you have children. It comes with extra tax benefits and lower tax payments. If you have custody and will be unmarried by the end of the year, you qualify for this benefit as long as the children are your legal dependents. The IRS redefines custody frequently.
Exemptions
If you divorced last year and have custody of children, you might qualify for childcare and education tax credits. Child support payments aren't deductible, but they're not considered income either. Alimony is taxable income, and if you're the one paying it, it's fully deductible, too. However, if you receive it as a lump sum payment, it won't be taxable or deductible.
Tax Returns During Your Marriage
Even if you file separately, you're responsible for your prior tax returns from years when you filed together. Joint tax returns come with enough complications to make your head spin, so make sure you handle them well in advance and keep yourself safe with an indemnification agreement. This way, if your spouse has due taxes, you won't be held responsible for them. Any overpayments should be allocated in the divorce proceedings. If your spouse added your name to their returns during your marriage, consent must be formally revoked.
Assets
If you have assets that will be transferred to you during your divorce, they will count as capital gains. When married, you're not taxed on your home if it's under $500 000, but when single, you're only exempt up to $250,000. If you sell the house as a part of the divorce, you might qualify for a reduced exclusion, depending on whether you've lived in the home for at least two years of the last five. Retirement assets can be cashed out, but you will have to pay tax on them. The only way to avoid this particular payment is by transferring the funds to your ex-spouse under a Qualified Domestic Relations order.
If your spouse agreed to a joint return and refused later, you're unlikely to get a court order to force them.
Divorce comes with its fair share of chaos and confusion, and tax law is constantly evolving, which could push you into a different tax bracket. It's critical to check current state and federal law or, even better, hire a competent professional to advise you.