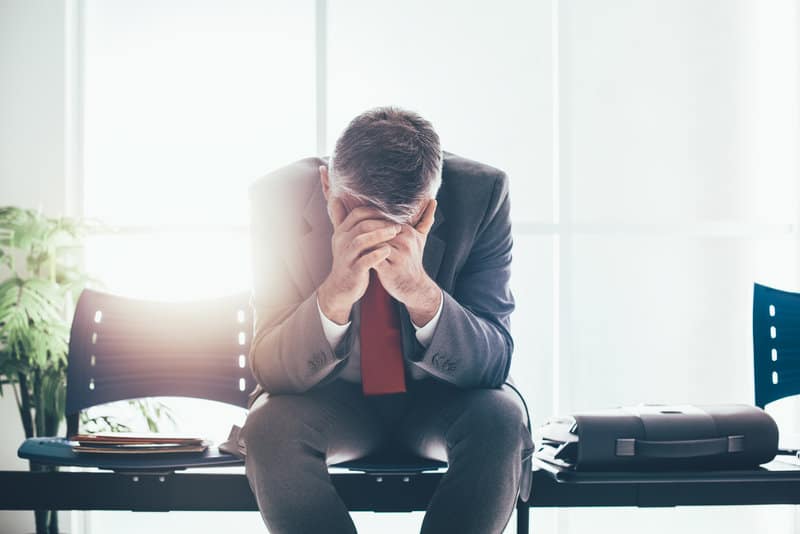 Is your marriage falling apart?
Sometimes, when a relationship is on the rocks, it can seem like everything else in your life is about to fall apart, too. However, it doesn't have to be this way. If you keep it together in other areas of your life, such as at work, you'll be much better at the end of everything.
Even if you can't save your marriage, you can save your career and your pride. In this guide, we'll walk you through how to keep it together at work, even when your marriage is falling apart.
7 Ways To Keep It Together At Work
Let your supervisor know
Without going into dramatic details, it's a good idea to alert your supervisor to the fact that you're splitting up with your partner.
Before you start the conversation, decide exactly what needs to be said, and leave the rest out. The less you say, the better. Just give the basic information so they know what you're going through.
If your job offers a benefits package to employees, you could also ask your supervisor or an HR representative about any support services that may be offered, or about an Employee Assistance Program. Sometimes, these benefits can help you through difficult times.
Keep things discreet
There might be a few close coworkers who you'll also want to alert to the change in your relationship. However, for the most part, less talk is more. Avoid dishing the details about how your marriage is falling apart during water-cooler conversations.
Be selective with the details you tell about the situation. Being too open at work can come back to haunt you – people might stop trusting your credibility, or be reluctant to give you future opportunities at work.
If a coworker who you don't know well asks you how things are going with the divorce, say something short and general, so you won't accidentally spill too much. It's a good idea to decide what you can say before they ask. For example, stick to a script like, "I'm still figuring things out, but thank you for asking."
Remember that you can always choose to give them more information later on. However, once something's been said, there's no way to take it back.
Use your non-work support system
It's important to have a good support system you can rely on outside of work, so you won't start searching for a support system at the job instead.
Even if you're close with some of your coworkers, try not to rely on them as your sole source of support. Spend more time with your non-work friends, and give them the details that aren't appropriate to share with coworkers.
You might occasionally vent to your close work friends, too, but keep this to a minimum. People quickly get overwhelmed if they both have to work with you and support you outside of work, and this can damage those friendships.
Have a backup plan for hard days
Most days, you should be able to power through your normal work responsibilities. However, there will be those days when the stress and emotions feel like too much to handle.
If you feel overwhelmed at the moment, try to channel that energy in a non-destructive way at work. Try taking a quick break if you can. Take a brisk walk, get some coffee for energy, or step into the bathroom for some private deep breathing.
Once you feel like you've calmed down, get back to work and finish your tasks for the day.
If you get overwhelmed at a time when you can't realistically take a break, try to compartmentalize the situation in your mind for the moment. If you can, take out a notepad and write down a few words about how you feel, then fold it up and make the choice to deal with those feelings when you have time.
Reduce communication with your former spouse
When your marriage is falling apart, the last thing you need is calls, texts, and emails about it at work. It's important to cut off communications with your former partner as much as possible during work hours.
You need to be as free from distractions as possible while you're working. Avoid any unscheduled conversations with your ex, including even short text messages.
A seemingly harmless conversation can quickly derail you if you aren't careful. Limit communications to emergencies only, such as a situation involving your children.
If you get a message from your ex, take control by telling them that you can't give them your attention right now, but you can talk about it later. Suggest a time that would be better for the two of you to talk.
If you have to respond right away, plan out what you're going to say before you say it. You might even want to write down key points of the conversation to keep it from getting derailed.
Don't use work to escape
Sometimes, work is a welcome distraction from the stress and emotions that come when your marriage is falling apart. To an extent, it can be helpful to use work as a form of escape. However, avoid using work as a way to completely avoid your emotions or block our the experience.
At some point, you'll have to face those feelings, and the longer you wait the harder it will be. Find positive, beneficial ways to deal with your emotions now so they don't come back to haunt you later.
Build a helpful environment
You'll be more successful if you work to build a work environment that can help you stay focused and positive.
When your marriage is falling apart, it can feel like your life is spinning out of control. You'll need to manage your work environment so you have the best chance at success. Use notes, reminders, apps, and whatever it takes to help you stay focused and think positively.
When your marriage is falling apart
If you're thinking about divorce or starting the process, you don't have to do it alone. You'll be better equipped to stay focused on work if you have a great attorney by your side.
Ready to talk to a divorce attorney? Contact us now to get started.